Summer season is witness to a large number of weddings. The warm season also has the advantage of being the perfect time for an outdoor wedding; giving couples a wider range of options in terms of venues, wedding themes, and décor ideas and so on. Like spring, summer is also the time when a large number of blooms are available. These flowers add beauty and serenity to the auspicious day, and create stunning visuals when captured through the lens. However, preserving wedding flowers in Chicago, Houston or Los Angeles isn't really an easy task, neither is it too difficult. We give you 4 easy and effective tips on how to keep them fresh and looking lovely all throughout your wedding day.
# 1 – Pick seasonal blooms and hearty flowers
Flowers that bloom in summer have better ability to withstand high temperatures than rare flowers. Buying fresh and just picked flowers from a local vendor also helps keep them intact for a longer time. Opt for blooms with a waxy texture as they stay fresh longer. Hawaiian blooms, such as orchids (especially cymbidium and dendrobium orchids), are a good option. Tiger lilies, roses, ginger halcyons, and birds-of-paradise, too stay put and do not wither easily in the summer heat. It is always a good practice to check with your florist on which flowers work best for your wedding venue.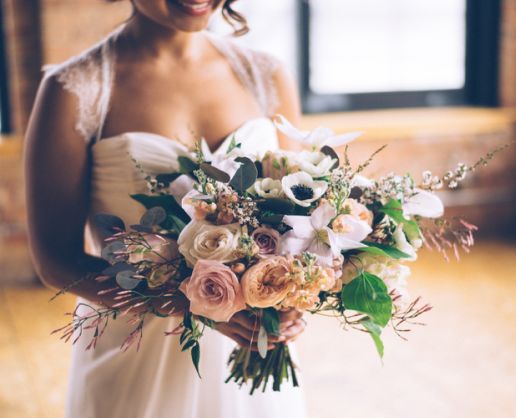 # 2 – Maintain wedding flowers
Wedding flowers need maintenance in summer, more than in any other season. The higher the temperature, the more the upkeep required. Have your wedding flowers delivered early on the day of your wedding rather than on the previous night. Arrange for a refrigerator at the wedding venue so that the blooms can be stored in a cool place till the ceremony begins. When you aren't being photographed, keep the bouquets away in shade or hand them over to your bridesmaid to be kept in a vase of cool water. Keep a bottle of water spray handy and moist your flowers every hour to keep them looking fresh and crisp.
# 3 – Choose bright colors
Nude and light hues flowers tend to brown faster than bright and bold ones. Using the latter ones not only makes them look better in pictures, but also fills those photographs with a riot of colors. Hues such as violet, fuchsia, deep yellow, magenta, and green work well in outdoor and semi-formal weddings. Wine and deeper shades of red like dark red roses, and deep purple lilies are more appropriate for formal weddings. Shades of yellow and orange are a great option in casual weddings. Blooms such as sunflowers work well in this regard as a few stems is all that is needed to create a pop of colors.
# 4 – Use herbs and succulents
Greens are a big trend in weddings these days, and they are just as apt for summer weddings as they are for any other season. Succulents and herbs pair well with flowers in bouquets, corsages, boutonnieres, and even centerpieces. They also fill the air with a pleasant fragrance. Greens stay fresh for a longer time than flowers, and hence work extremely well in the high temperatures during summer. They also add a dash of freshness to the warm wedding venue, and create interesting contrast in photographs. Herbs and succulents are also the perfect choice for rustic and vintage themed wedding. They work well in casual weddings and those themed around the countryside.
No wedding is complete without flowers, and summer, though a great time to exchange vows, worries most wedding hosts about how to keep floral arrangements fresh and intact. However, with a little extra care, you can keep your blooms pristine and beautiful all throughout your special day, even in this season of high temperatures.