Wedding can be a very stressful and emotional moment for brides. A bride will be making the biggest decision of her life and no matter how strong the woman is, at some point of time she will feel weak down her knees. Emotional and moral support during this time becomes more important than ever. Moreover, there are so many things to worry about the wedding planning that the bride will hardly find time to dress up, look beautiful and have a moment of peace. Help is very much needed during weddings and that's why there are angels like bridesmaids next to the bride in each wedding. From emotional to moral to physical support, bridesmaids stand by the bride throughout the wedding supporting her and helping. They certainly deserve a token of appreciation and here's how to choose a bridesmaid gift.
1. Something that suits her personality
The first and the most important mistake probably you could do is buy a common gift for all your bridesmaids and not think about the fact that they might not like it. Every woman is different in her own way and has her own preferences. Your bridesmaids will appreciate your effort when you put some time and money to get gifts that suit their individual personality and make them feel special. Personalized gifts will not only strengthen your friendship but also carry it forward for years to come.
2. Re-usable and Re-wearable
A lot of brides commit the mistake of choosing a bridesmaid gift that has a limited shelf life. Gifts like bags and necklaces that say 'bridesmaid' will only suit on the wedding day and will never get out of their closets after that. Gift something that is re-usable or some dress/jewelry that is re-wearable. This way they will remember your wedding as and when they use it or wear it over time. Also, if you know the bridesmaid a bit too well, you can gift her something that she doesn't possess.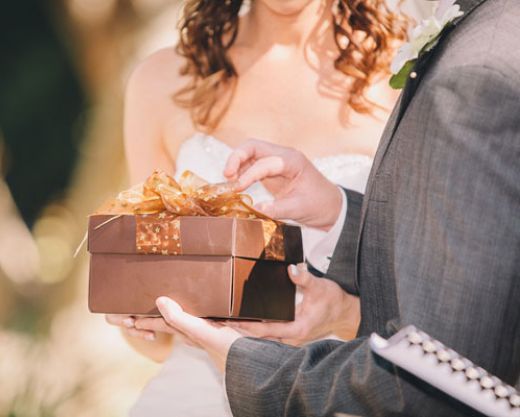 3. Gift Experiences
We have to blame the stereotype for assuming that every gift is something that is physical and something that can be carried to home and stored in a cupboard. You can think a bit out of the box and gift experiences rather than things to your bridesmaids. You can get her tickets to a Broadway show, book a table in a fancy restaurant or book a spa treatment for her to relax soon after the stressful wedding. You can also get her a subscription service of flowers, women's magazines, cooking classes etc.
4. Grab Bag
If you are one of those people who can't decide what gifts to give or get confused with too many gifts, gifting a multi-part gift would be a great idea. You can gift your bridesmaids a grab bag which consists of many things like a complete makeup kit or a bridesmaid survival kit, or a set of luxury soaps and bath candles, or a box full of edible goodies. Give her something that is stuffed and something that is thoughtful.
No matter what the gift, don't forget to include a thank you note.