What's a wedding if there are no guests to bless and congratulate the bride and groom. In fact, it is the guests that bring in fun and joy to a wedding with their antics and unique personalities. Acknowledging their presence and thanking them for their arrival is a very nice way to keep the wedding day memorable, both for you and the guests. While a few guests wouldn't expect any wedding favors from you, a few would certainly expect, at least as a part of tradition. However, wedding budget is also of huge concern and buying a wedding favor for each and every guest at the wedding is not cheap at all.
If you have a tight budget and want to cut down costs on wedding favors, this article is for you. Rather than deciding not to give out any wedding favors, you can go for inexpensive but amazing wedding favors. In this article we will list down ways one can get these inexpensive wedding favors and give them to their guests.
1. DIY Gifts
Do it yourself (DIY) gifts are the most popular option on this list. If you are feeling a little short on the wedding favor budget, you can always improvise and prepare your own wedding favors. There are countless wedding websites which will give you thousands of DIY wedding favor ideas that can be realized with little or money. All it takes is a little of your time and creativity.
2. Wholesalers
If you find preparing your own wedding favors too tiring and time consuming, you can resort to wholesale dealers who will give you a lot of discount when compared to retail stores. All you have to do is find a wholesaler network which distributes wedding favors and small gifts as such, contact them and give them your bulk order.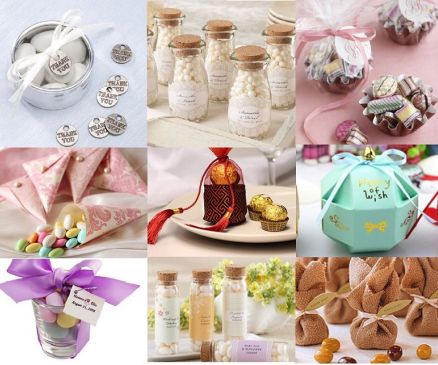 3. Shop after Christmas
If your wedding is somewhere in the month of January or February as you can buy your wedding favors from a after Christmas sale where everything will be highly cheap or discounted. The store owners just want to sell their unsold goods and offer lower rates on gifts and products though they are of the highest quality.
4. Online Shopping
Online shopping is the new virtue of shopping and there are always some kind of deals offered by these online stores. Especially on websites like eBay and Etsy you can exchange gifts from someone else for a cheaper amount. If not customer to customer exchange markets like eBay, you can find these wedding favors on regular online stores too, stores that offer a lot of discounts on special days.
5. Iced Christmas Cakes
If your wedding is sometime after Christmas, you can get cheap iced fruit cakes that were left unused during the Christmas. Do note that these fruit cakes will be extremely good and time has nothing to do with them. These cakes will also come in handy when you run out of the wedding cake pieces.