There are so many things to take care at a wedding, so many people to manage and so much of emotions to deal with, it is quite normal to forget a few things; especially trivial but vital ones. Having a checklist of things to do will help in staying organized in these chaotic situations and hope for a perfect wedding. If you are one of those who has dreamed of a perfect wedding all your life, this article is for you. We have prepared a wedding day checklist for you by handpicking the most essential things to do on the day of wedding. Read on.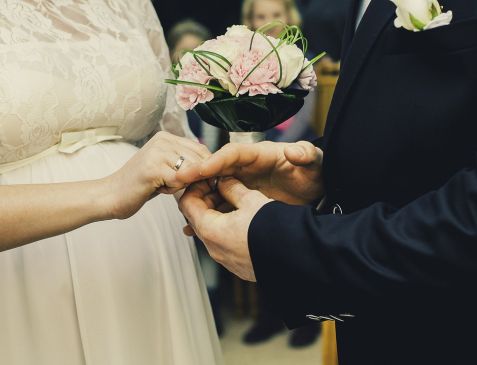 1. Directions and Signage
You don't want your guests to be lost on the day of the wedding nor bother you to ask the address of the place or the table they have been assigned. Ensure to inform your guests about the address of the place beforehand and update them with all the details they ought to know as guests.
2. The Ambience
Ambience and atmosphere play a very important role in determining how beautiful a wedding is. You should have a clear vision of how your wedding must look like and work with the décor people to realize it on the day of the wedding. Be it the entrance design, seating arrangements, flower arrangements or the lighting, ensure everything is in the way you imagined it to be. Also, stop obsessing with minute details either, nothing is perfect!
3. Calling the Vendors
Arrival of a lot of vendors like photographers, florists, makeup artists and catering services must be confirmed beforehand to avoid any last minute delays. Though bride and groom are the important people in the wedding, it is not complete without these vendors.
4. Wedding Favors
This is a blunder that happens in many weddings, embarrassing both hosts and guests. While a few guests don't expect any gifts in returns, some guests do. Hence, it is wise that you decide the wedding favors way before and ensure that these gifts are handed over to the guests or placed on their respective seats.
5. Cake Table
Though it doesn't seem like a big deal, having cake table on your checklist is very important. Cake and rings are the two most important things on a wedding and most of the guests prefer to take photos near the cake or take a slice. If the cake is not placed properly, on a firm cake table, chances are it will fall and create nuisance for everybody.
6. The Exit
Last but not the least, the exit plan must also be one of the elements of your wedding checklist. Ensure that the pathway to the car is decorated as decided, the car is ready in its place at the right time, the photographers are in their place and everybody has smiles on their faces!
Apart from the above mentioned, there are a lot of other things to do on the wedding day. A wedding day checklist might also include other elements like seating arrangement, menu cards, escort cards, guest books and so on.